Maintaining the hygiene of your flock is an important aspect of being a responsible backyard chicken keeper.
Click here to get your FREE copy of our "Chicken Coop Cleaning Checklist"
A study published in the New England Journal of Medicine tracked 316 cases of salmonella poisoning from handling live chickens from 2004 to 2001.  Most of the in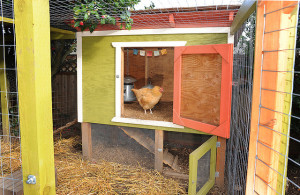 fection were traced to an unidentified mail-order hatchery.
According to Dr. Casey Barton Behravesh, a veterinary epidemiologist for the CDC,  "A perfectly healthy chicken can shed salmonella bacteria."
"People know to wash their hands after they handle raw chicken from the grocery store, but forget that live chickens can carry salmonella germs too." Dr Behravesh said.
Despite the concerns you can avoid the risks of salmonella and other health risks by doing a few simple things such as washing your hands with soap and water after handling your backyard chickens, washing the birds' bowls outside and not allowing children to bring chickens into the house.
We have put together a easy to following "Backyard Chicken Hygiene Guide" which comes with a bonus chicken coop cleaning checklist.  This is available to members only so sign up here.