Recently I was discussing different types of chickens with another backyard chicken keeper and we had a small wager on who could correctly name the breeds of chickens shown in photos. It was a lot of fun and I didn't get as many right as I thought I would.
This was the inspiration for this post because I wanted to give our readers the same chance to test their skills by trying to correctly identify the types of chickens shown in photos I will post here.
I will post the answer in a few days in another post – see the answers here.
Time to test your skills by leaving a comment below with your answer.  (Note I am going to hold all comments from publishing for 24 hours so it doesn't spoil it for everyone and then we can see who got it right).
Test your friends knowledge by sharing this post also.
This weeks Chicken Trivia Breed
Click here to get your members only "Guide to Selecting the Best Backyard Chicken Breed"
Previous Weeks Chicken Trivia Breeds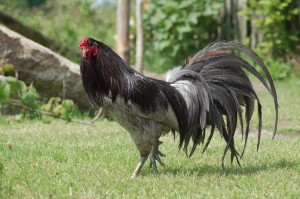 If you want to be notified by email when we post the answer simply subscribe by providing your email above and as a bonus you will get a copy of our e-book on selecting the best backyard chicken breeds.
Also check out our other posts about types of chickens and breeds of chickens by searching through the menus above.