In this post we will provide information on different types of chickens and breeds of chickens. There are hundreds of chicken breeds in existence and we will cover the 26 most common breeds in this post.  (Note – this post is a work in progress and we will be continually adding to the list over the coming weeks as part of our chicken trivia post – Spoiler Alert if you don't want to know the answers to the chicken trivia yet then stop reading now and go back the chicken trivia post).
Make sure you check out about top 5 egg laying breeds and America's top 5 favorite breeds posts.
We also have a free "Guide to Selecting the Best Backyard Chicken Breed" e-book which you can download.  Get your copy here.
Sumatra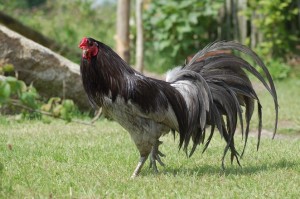 Sumatras are primarily an ornamental breed with an attractive black and green plumage.  They also come is blue (as seen in the picture) and white variations.  The cocks weigh 4-5.5lbs and the hens around 4lbs.  The hens are considered to be poor layers producing around 100 white eggs a year and can be susceptible to broodiness.  Both males and females have small wattles and the males can have multiple spurs on each leg.  This breed retains a strong flying ability unlike some of their more domesticated cousins.
The breed originates from the island of Sumtra and were originally imported into the US and Europe in 1847 mainly for cockfighting but are mainly kept for exhibition today.