Now I know that this post is likely to generate lots of passionate debate about what your favorite breeds of chickens are for your backyard chicken flock but a recently released study by the University of California has finally given us our first insights into America's backyard chicken coops.
In the largest study of its type into backyard chicken ownership in America, The University of California research has obtained insights into backyard chicken owners perceived flock health and welfare issues, the most favored breeds of chickens to keep in backyard flocks, backyard chicken husbandry practices, why people raise backyard chickens, what resources are necessary to help improve backyard chicken flock care and management, as well as demographic information about backyard chicken owners and their attitudes to chickens and chicken derived products.
This is the first of a series of posts to discuss the results of the study (if you want to be kept up to date on future posts make sure you subscribe to our newsletter in the banner above.)
Now to the reason why you are probably reading this in the first place (you probably just jumped ahead to look anyway) – the results are in and America's top 5 favourite breeds of chickens for backyard chicken flocks in no particular order are…….
America's top 5 favorite breeds of chickens
Interestingly America's top 5 breeds of chickens are all egg-laying breeds and 3 out of the 5 are also in our recommendation for the top 5 best egg laying chickens for beginners.
Also check out our guide to selecting the best backyard chicken breeds for more information about these breeds.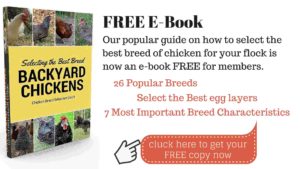 The study noted that the backyard chicken owners "appeared sensitive to egg color, as all of the 5 most frequently cited breeds lay colored eggs and other "blue-green egg" layers (Araucana and "Easter Egger") and chocolate egg layers (Marans and Wellsummer) were also popular."
The researchers noted that this could possibly be partly explained due to the colored egg dissimilarity to grocery store predominantly white eggs – in non-researcher speak this means that backyard chicken owners are simply rebelling against industrial production of eggs by giving the proverbial middle finger to industrial white eggs.

Tell us about your favorite breed by posting a comment.
Keep an eye out for future posts where we will reveal other insights from the study including top reasons why Americans own backyard chickens, how many backyard chickens people keep in their flock, where they get their chickens and much more. (Remember to subscribe to our newsletter and we will send you the posts straight to your inbox).